Sedation Dentistry for Children
---
Our sedation services are provided
on a continuum based on your child's needs.
---
Services range from "anxiolysis" using Nitrous Oxide (laughing gas) and oxygen provided with a nasal hood, to "oral conscious sedation" using a cocktail of sedative medications that are extremely safe for children, and finally "general anesthesia" provided by a team including a dental anesthesiologist using an IV and ventilator to deliver the medications.
---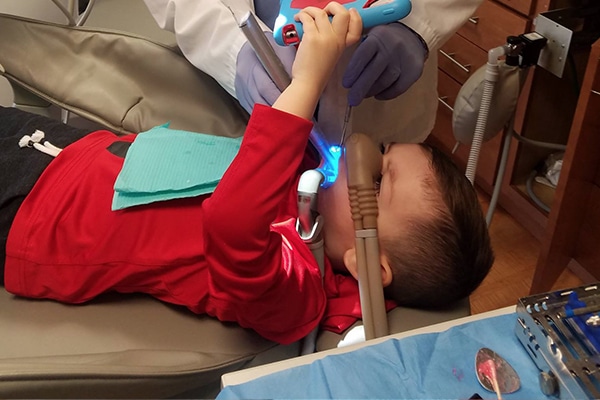 Nitrous oxide, often referred to as "laughing gas," is an effective and safe anxiolytic agent that is inhaled through a mask that fits over your child's nose. Mixed with oxygen, nitrous oxide allows the patient to breathe normally through their nose and within minutes they may begin to feel the relaxing effects. Ultimately, they should feel comfortable and calm, and they may feel light-headed or notice a tingling in their arms and legs. The effects of nitrous oxide wear off quickly after the gas is removed. Prior to this, your child is provided with 100% oxygen for 3-5 minutes after the procedure to flush out their airways. We always encourage parents to talk with us about whether nitrous oxide would be a good option for your child.
Oral conscious sedations involve using an oral sedative called midazolam(Versed) and is used to create anterograde amnesia. Once administered, most patients have no memory of the dental procedure the following day. Patients with high levels of anxiety, special needs or extensive tooth decay may benefit from oral conscious sedation. Our team can discuss the risks and benefits of oral conscious sedation to help you decide if this is a good choice for your child.
---
IV Sedation or General Anesthesia
---
Intravenous (IV) Sedation, also known as general anesthesia, uses medications to allow the patient to sleep while receiving dental treatment. Patients with high anxiety, special needs, extensive dental treatment needs, may benefit from treatment under general anesthesia. Our team can discuss the risks and benefits of general anesthesia to help you decide if this is an appropriate choice for your child.
---
Dr. Patrick McCarty, Dental Anesthesiologist 

---