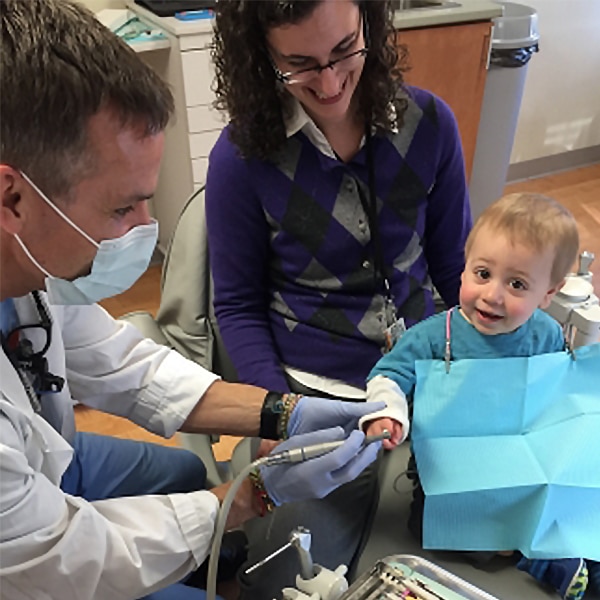 ---
The goal of your baby's first visit is to educate parents on their child's dental health.
---
At Greater Boston Smiles, we treat every child as an individual with their own personality and unique needs. Some children do experience anxiety when visiting the dentist; and we are very equipped and devoted to helping children overcome this anxiety. We include parents and guardians in our dental experience and have found that this helps promote confidence and security for a child who may be apprehensive about their visit to the dentist. Please do not be concerned if your child exhibits some negative behavior during their visit. Our caring staff and laid back atmosphere will put you and your child at ease as we work towards our goal to create positive memories of going to the dentist.
---
During the first visit we will:
---
Evaluate

We will evaluate for any habits such as prolonged thumb sucking and provide recommendations to safeguard against problems such as baby bottle decay, teething irritations, gum disease, tooth decay, etc. 

Examine

We will examine your child's mouth and demonstrate how to effectively clean their teeth and gums based on their individual needs. If your child is comfortable, this will include brushing, flossing and the application of a fluoride varnish.

Establish

We will work with you to establish a special preventive care treatment plan for your child and provide tips & tricks for home care. 
---
Each and every visit to our office is focused on education to minimize the negative impacts on your child's oral health so that he/she is able to establish and maintain a healthy smile for life. Learn more about our approach and philosophy.
When you come in for your baby's initial visit, please be sure to bring your child's dental insurance card and arrive early to fill out our new patient paperwork if you have not already done so. We look forward to meeting you and your child for your first appointment!
---